SIZE: 55.9CM L X 61CM W X 101.6CM H
FEATURES
Bluetooth user-controlled app: Apple & Android
Rotation options: WOLF app controls setting Turns per Day (TPD) for timepieces(s) ranging from 1 – 1,999 turns per day (TPD)
Directional settings: Clockwise, counter-clockwise, bi-directional
Start delay: Users program up to 255-hour delay before first winding cycle – accommodating recently worn timepiece or power reserve.
Lock-in cuff: Patented cuff/drum ensures cuff locks inside and watch is held safely
Size: Cuff/drum suits all watches, strap & case sizes
Patented innovation: TPD guaranteed by patented method of counting turns – no other company counts TPD, they simply estimate.
Additional storage: 3 Black finished exterior, grey Lusterloc™ lined, pull-out drawers house 5 additional watches, jewellery and accessory storage. 2 drawers divided, 1 drawer open for larger items.
Exterior/Interior: Onyx or Titanium high gloss exterior, chrome trim, WOLF's custom 1834 Gray LusterLoc™ treated ultrasuede interior.
UL certified independent testing verifies:
Fire resistance for up to 120 minutes, tested at 1,700°F (927°C), then dropped from 30 feet.
Interior temperature during fire test remains below 350°F (177°C), (paper burns at 450°F (232°C), your documents remain safe.
Water Resistance: Interior of safe door is sealed with Palusol® fire seal - expands 8 times the original size, sealing the door.
Additional App controls:
Control winder modules independently or simultaneously with WOLF app
Customise safe with ability to name safe and each winder
Upload watches or personal photos as background image
Password protected app control
Register warranty from phone
Contact customer service, shop online
Order details are specified by phone.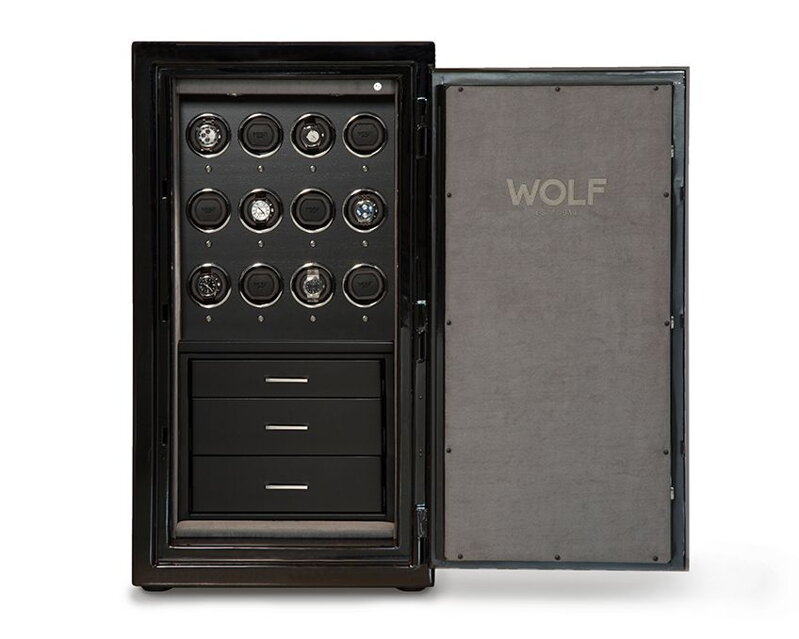 Wolf 1834 - ATLAS 12 PIECE WINDER SAFE
35382 €
29485 € excl. VAT